Pavilion Builder
Does your neighborhood community, HOA, or municipality need a pavilion built? Look no further than Total Site Amenities.
We are a leading pavilion construction company in Central Florida. We have 30+ years of experience building pavilions for multiple outdoor uses.
Transform Your Landscape with a TSA Pavilion
The Art of Pavilion Construction
At Total Site Amenities (TSA), we specialize in pavilion construction, turning ordinary spaces into elegant, functional outdoor areas. As your dedicated pavilion builder, we focus on creating structures that not only serve as a shelter but also enhance the beauty of your surroundings. Our pavilions are perfect for parks, gardens, community centers, and more, providing a versatile space for gatherings, events, or simply enjoying the outdoors.
Understanding the Distinct Charm of Pavilions
Pavilions vs. Gazebos vs. Pergolas
While pavilions, gazebos, and pergolas are all beautiful outdoor structures, they each have unique characteristics:
Pavilions: Typically rectangular or square with a simple pitched roof, pavilions are open-sided, spacious, and ideal for larger gatherings.
Gazebos: Often octagonal with a domed roof, gazebos are smaller, more decorative, and provide a quaint, secluded space.
Pergolas: Known for their lattice roofs and open sides, pergolas offer partial shade and are great for integrating plants and vines.
Choosing the Right Structure
Your choice between a pavilion, gazebo, or pergola depends on your specific needs, space, and aesthetic preference. As your pavilion contractor, TSA can help you determine which structure best suits your property and goals.
Why Choose TSA for Pavilion Construction?
Expertise and Quality in Every Build
As a leading pavilion contractor, TSA brings expertise and quality to every project. We use durable materials and employ skilled craftsmanship to ensure your pavilion is not just built, but crafted to perfection.
Tailored to Your Needs
We understand that every client has unique requirements. Whether you're looking for a classic wood pavilion or a modern metal structure, we tailor our pavilion construction services to meet your specific needs.
Start Your Pavilion Project Today
Contact TSA for a Custom Quote
Ready to add a stunning pavilion to your property? Call us at (239) 340-9948 or visit our contact page to discuss your project with a professional pavilion builder. Let TSA transform your outdoor space into a place of beauty and functionality.
Your Vision, Our Expertise
At TSA, we're committed to bringing your vision to life with exceptional pavilion construction services. Contact us today, and let's start creating an outdoor space that you and your community will cherish for years to come.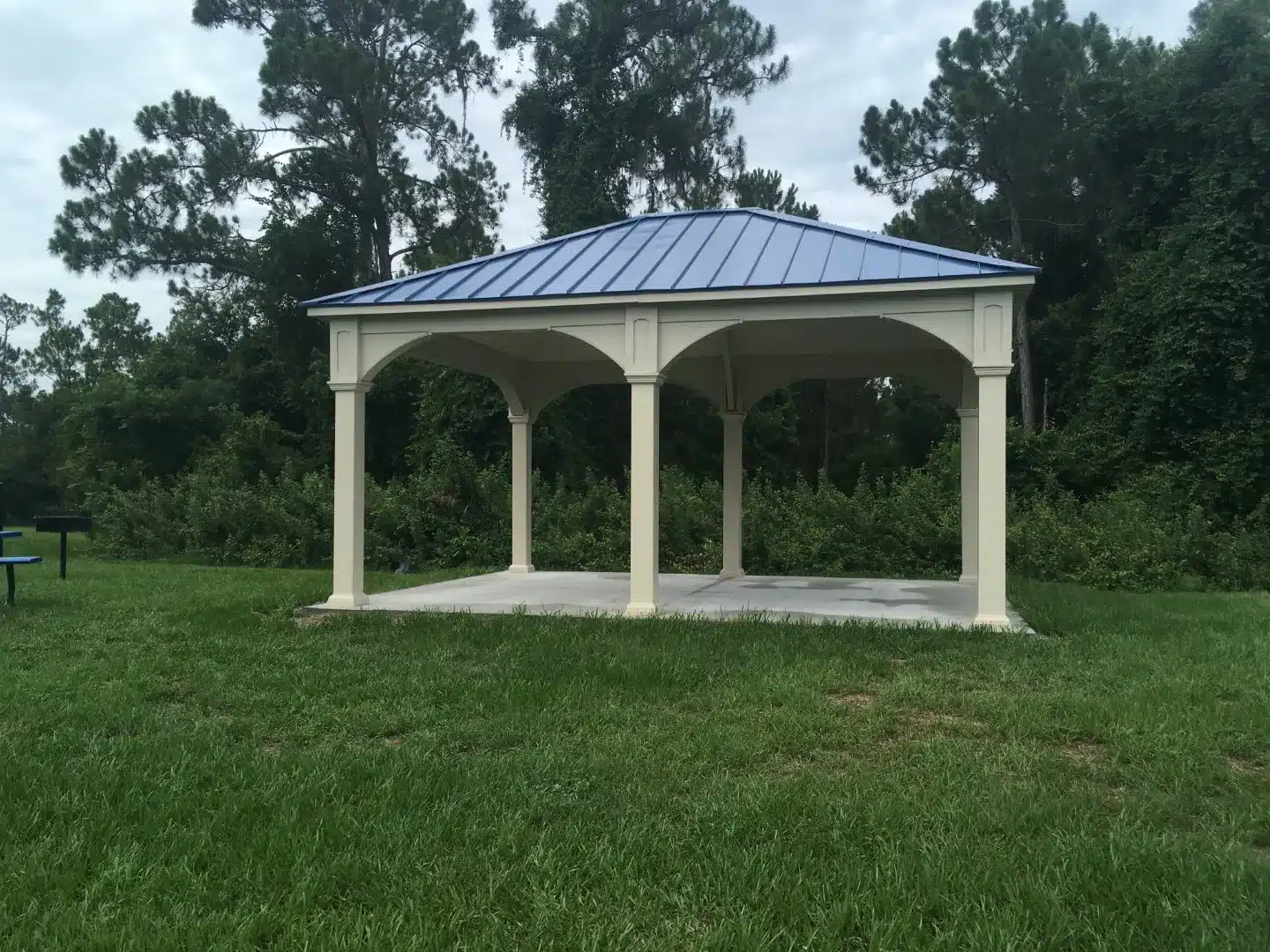 Outdoor Pavilions
Create the perfect outdoor space for your events and gatherings with our custom pavilions.
Functional Kiosk
Stand out from the crowd with our custom kiosks that are tailored to your business needs.
Durable Shelters
Enhance your public transit stops and hubs with a functional and sturdy shelter from Total Site Amenities.
Custom Outdoor Structures for Any Occasion