Pergola Builder
Does your neighborhood community, HOA, or municipality need a pergola installer? Look no further than Total Site Amenities.
We are a leading pergola construction company in Central Florida. We have 30+ years of experience building many types of outdoor structures.
Transform Your Outdoor Space with a Custom Pergola
The Beauty of Pergola Construction
Total Site Amenities (TSA) is your go-to pergola builder, specializing in creating stunning, customized pergolas that provide not just shade but also elevate your outdoor living area. Our pergola construction process is designed to cater to your specific needs, whether it's for a residential backyard, a community park, or a commercial patio. With TSA, you get a pergola that's more than a structure – it's a lifestyle enhancement.
Understanding Pergolas and Their Unique Appeal
Pergolas vs. Pavilions vs. Gazebos
When considering an outdoor structure, it's important to understand the differences:
Pergolas: Open-air structures with a lattice-style roof, allowing for ventilation and sunlight. They are typically made of wood, metal, or vinyl and are ideal for integrating plants and creating a natural ambiance.
Gazebos: Smaller than pergolas, often octagonal, and provide a more intimate, sheltered space. Gazebos are usually made of wood or vinyl.
Pavilions: Larger structures with fully enclosed roofs, supported by columns or posts. Pavilions are versatile and can be made from various materials like wood, brick, or stone.
Choosing the Right Outdoor Structure
Your choice between a pergola, gazebo, or pavilion depends on your specific needs and the ambiance you wish to create. As your pergola contractor, TSA can guide you in selecting the perfect outdoor structure for your space.
Why Choose TSA for Your Pergola Project?
Expert Craftsmanship in Every Build
As a leading pergola contractor, TSA brings expertise and attention to detail to every project. We use high-quality materials and ensure that your pergola is not only aesthetically pleasing but also durable and functional.
Tailored to Fit Your Style
We understand that each pergola project is unique. Our team collaborates with you to design a pergola that reflects your personal style and meets your functional needs, making it a true extension of your outdoor living space.
Start Your Pergola Project Today
Get in Touch for a Personalized Quote
Ready to enhance your outdoor area with a custom pergola? Call TSA at (239) 340-9948 or visit our contact page to begin your journey with a professional pergola builder. Let us help you create an inviting and stylish outdoor space.
Your Vision, Our Expertise
At TSA, your vision inspires our craftsmanship. Contact us today, and let's collaborate to build a pergola that not only meets but exceeds your expectations. With TSA, your dream outdoor space is just a call away!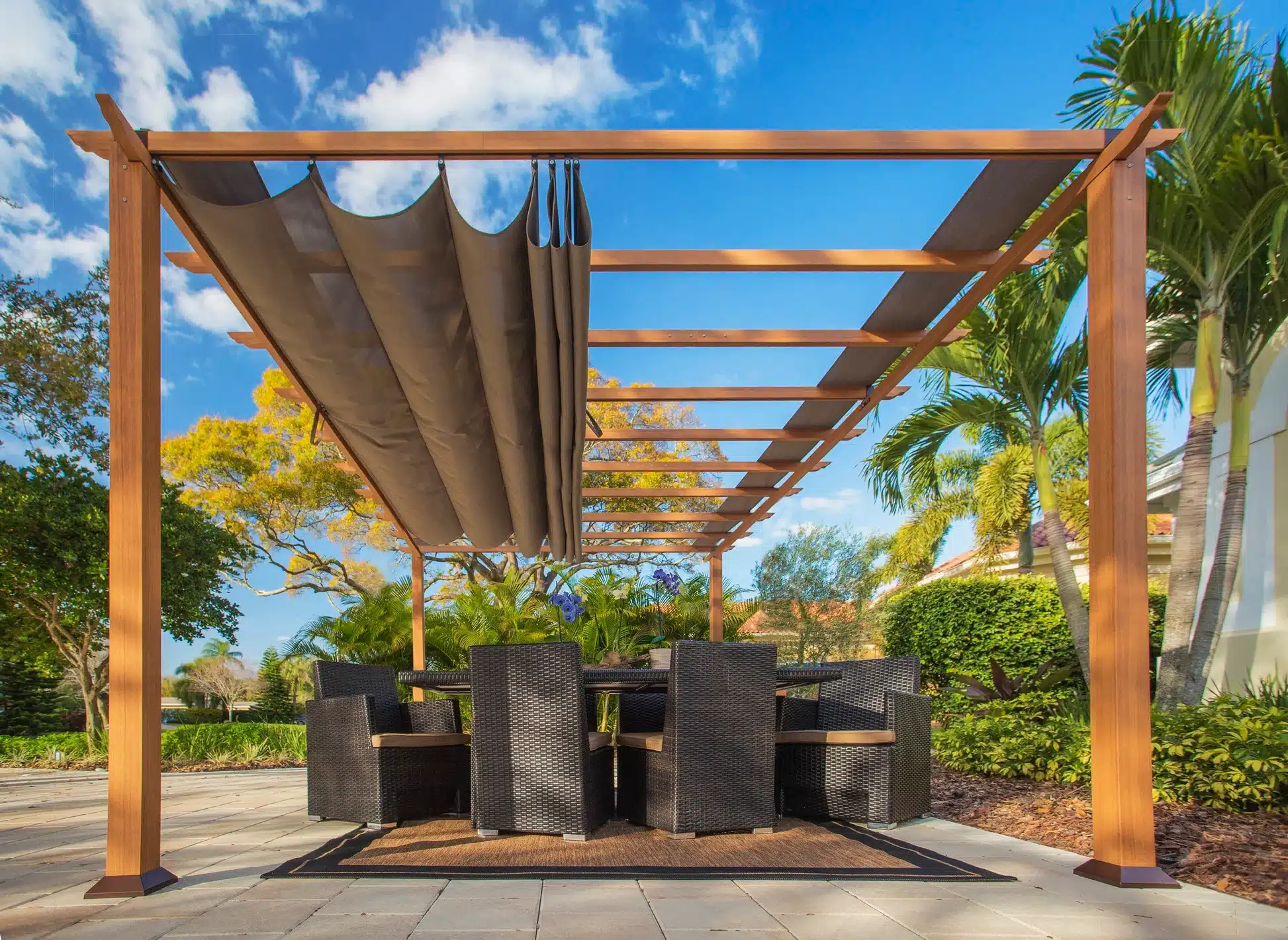 Outdoor Pavilions
Create the perfect outdoor space for your events and gatherings with our custom pavilions.
Functional Kiosk
Stand out from the crowd with our custom kiosks that are tailored to your business needs.
Durable Shelters
Enhance your public transit stops and hubs with a functional and sturdy shelter from Total Site Amenities.
Custom Outdoor Structures for Any Occasion