Pavilion Builder
Does your neighborhood community, HOA, or municipality need a pavilion built? Look no further than Total Site Amenities.
We are a leading pavilion construction company in Central Florida. We have 30+ years of experience building pavilions for multiple outdoor uses.
What is an Outdoor Pavilion?
In architectural terms, a pavilion can refer to several types of structures. Typically, outdoor pavilions are free-standing buildings, often separate from a main building or residence, and may serve various purposes. Here are some common meanings and contexts for pavilions:
Garden Pavilions

: These are often found in gardens or parks and are typically open structures, like gazebos, that provide shade and a place to rest or gather.

Recreational Pavilions

: Found in parks or recreational areas, these pavilions are open-sided structures used for picnics or gatherings. They often have a roof to provide shelter from sun and rain.

Sports Pavilions

: These can be found adjacent to sports fields or courts and provide shelter, seating, or changing facilities for players and spectators.

Exhibition Pavilions

: These temporary structures are often built for expos or world fairs to represent a country, concept, or company. They can be pretty innovative and unique in design.

Spa Pavilions

: In luxury resorts or retreats, separate buildings or pavilions might be designated for spa treatments, providing a private, serene setting.

Cultural or Historical Pavilions

: Some pavilions serve as small museums or cultural spaces, showcasing art, history, or heritage.

Architectural Pavilions

: In the world of architecture and design, pavilions might refer to small structures built to experiment with new design concepts, materials, or construction methods. These can be temporary or permanent, often showcased in design festivals or biennales.
The design and features of an outdoor pavilion can vary widely depending on its purpose, location, and cultural context. They can be ornate or simple, temporary or permanent, and made from various materials. Regardless of their function, pavilions are generally meant to be functional and aesthetically pleasing additions to the landscapes or environments in which they're placed.
Key Takeaways
✔ Pavilions are outdoor structures that are designed and built to fit the specific needs and preferences of the homeowner.
✔ They offer many benefits, including a unique and functional outdoor space, increased home value, and protection from the elements.
✔ Pavilions can be designed to fit any style or aesthetic preference and can be made from a range of materials.
What is the difference between a pavilion and a gazebo?
Both pavilions and gazebos are outdoor structures that can enhance the beauty and functionality of a garden, park, or any open space. However, there are distinct differences between the two:
Design & Structure
Pavilion: Typically, an outdoor pavilion is a rectangular or square structure with a simple pitched roof. It's often larger than a gazebo and can accommodate more people. A pavilion is usually open-sided, meaning they don't have walls but may have columns or posts supporting the roof.
Gazebo: Gazebos are often octagonal or round in shape, though they can be square as well. They often feature a domed or turreted roof and can be open-sided or have railings, half-walls, or even screens. They're typically smaller and more decorative than pavilions.
Purpose & Function
Pavilion: An outdoor pavilion is often used for gatherings, picnics, or events, given their larger size. They provide shade and shelter over a larger area and can often be found in parks, fairs, or outdoor event spaces.
Gazebo: Gazebos are commonly used as a quiet, secluded spot to sit, read, or enjoy the surroundings. Given their ornate design, they can also serve as a focal point in gardens.
Construction & Material
Pavilion: Typically constructed with materials like wood, metal, or even concrete. Outdoor pavilions tend to have a more straightforward and open design, focusing on providing shade and shelter.
Gazebo: Often made from wood, vinyl, or metal, gazebos can be more intricately designed with decorative elements, railings, or latticework.
Location
Pavilion: Pavilions are often found in larger open spaces like parks, beachfronts, or event areas.
Gazebo: Typically placed in gardens, yards, or picturesque spots to maximize views and ambiance.
Installation
Pavilion: Given their size, outdoor pavilions often require more extensive construction and are more permanent structures.
Gazebo: Some gazebos are available as prefabricated kits, allowing for quicker installation. However, there are also custom-built gazebos that can be more permanent and robust.
Conclusion
While pavilions and gazebos have their distinct features and purposes, the choice between them largely depends on the specific needs, space available, and aesthetic preferences of the user.
What are the benefits of pavilion construction?
The benefits of a pavilion construction include:
Enhancement of public spaces for recreational and cultural activities.

Provision of shelter from elements such as sun and rain, allowing for comfortable gatherings.

Aesthetic improvement of an area, contributing to community pride.

Durability and ease of maintenance, ensuring long-lasting enjoyment with minimal upkeep.

Versatility in serving various purposes, from relaxation spots to event venues.

Promotion of community interactions and social gatherings.

Potential increase in property value or attractiveness of an area.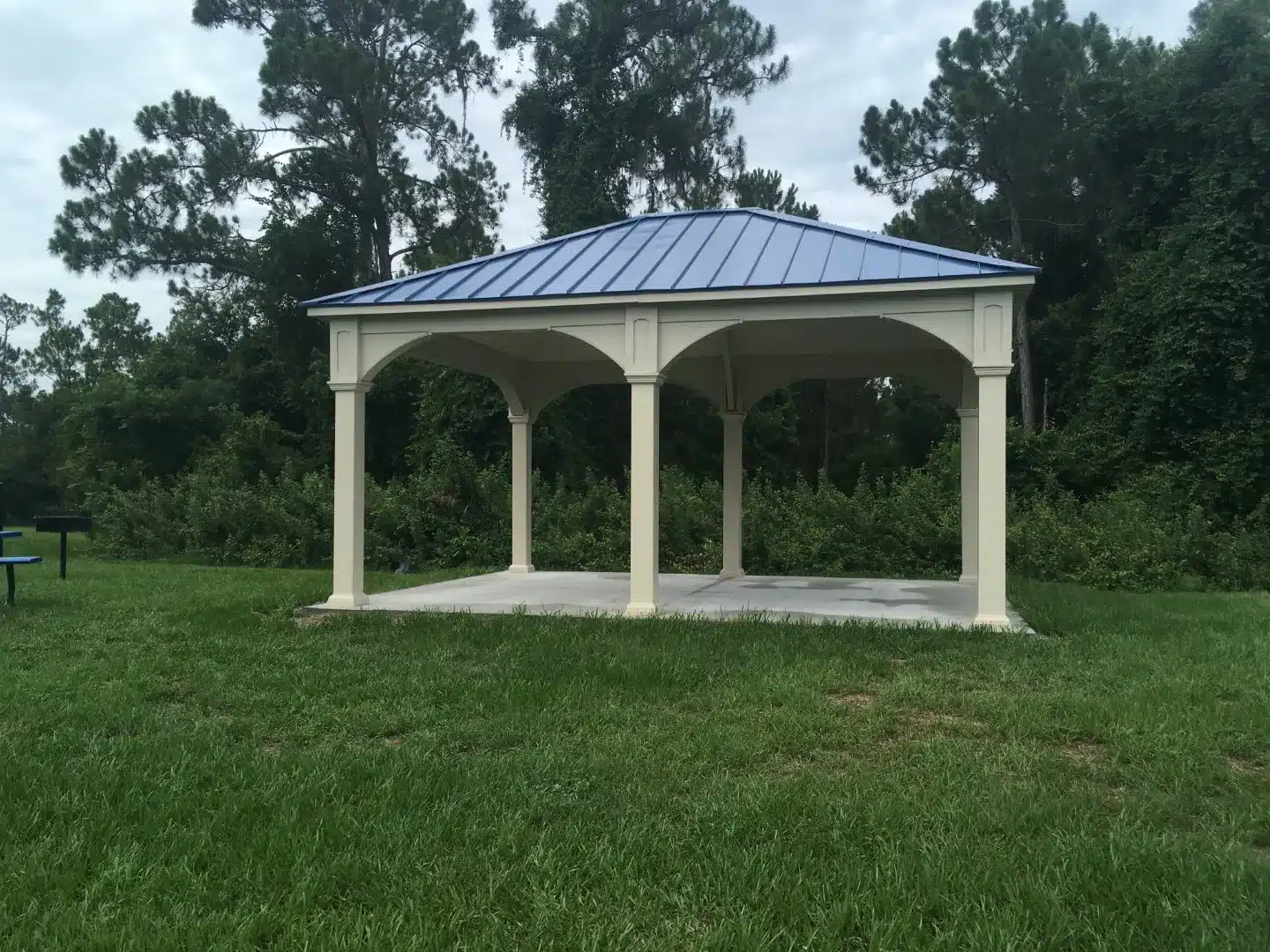 Designing Your Custom Pavilion
Designing an outdoor pavilion for your outdoor space can be an exciting and fulfilling experience. With the right design and materials, a pavilion can enhance the functionality and aesthetic appeal of your backyard, park, or business.
When designing an outdoor pavilion, there are several factors to consider. These include the size and shape of the pavilion, the materials to be used, the roof design, and the colors that will be incorporated. It is important to keep in mind the intended use of the pavilion and the overall style of the surrounding area.
One of the first decisions to make is the size and shape of the pavilion. Custom pavilions can be designed in a variety of shapes and sizes to fit any space. Some popular shapes include rectangular, square, and octagonal. The size of the pavilion will depend on the available space and the intended use. For example, a larger pavilion may be needed for hosting events or for use in a public park.
Another important consideration is the choice of materials. Custom pavilions can be constructed from a variety of materials, including wood, vinyl, and metal. Wood is a popular choice for its natural beauty and durability, while vinyl offers low maintenance and long-lasting durability. Metal pavilions can offer a sleek, modern look and are often used in commercial settings.
The roof design is also an important factor to consider. Some popular roof designs include gable, hip, and flat. The roof design will depend on the overall style of the pavilion and the intended use. For example, a gable roof may be more appropriate for a traditional-style pavilion, while a flat roof may be more suitable for a modern-style pavilion.
Finally, the colors used in the pavilion design should be carefully chosen to complement the surrounding area. Neutral colors such as white, beige, and gray are popular choices for their versatility and ability to blend in with any style. Brighter colors such as red, blue, and green can add a pop of color and personality to the pavilion design.
Overall, designing an outdoor pavilion requires careful consideration of several factors. By taking the time to plan and choose the right materials and design elements, an outdoor pavilion can enhance the functionality and beauty of any outdoor space.
Why Choose Total Site Amenities as your pavilion builder?
When it comes to your outdoor site amenities, Total Site Amenities is the go-to company. Here are some reasons to consider us for your outdoor pavilion building needs, and here's why:
Personalized Service

: We listen to you and tailor our services to fit your vision. Whether you're a busy project manager or an HOA, we get your needs.

Quality Work

: Our team knows how to make outdoor spaces look and work great. Trust us to do a top-notch job.

Everything in One Place

: We handle everything From planning to cleanup. You won't have to stress about juggling different contractors. We're your one-stop shop.

On-Time and On-Budget

: We respect your time and money. We'll get the job done when we say we will, without breaking the bank.

Custom Solutions

: Your outdoor space should be as unique as you are. If you have special requests, we're on it.

We Build It All:

From small projects to large projects.

Professional Workmanship:

We are licensed and insured and hire only the best artisans as our teammates.
We are the new pavilion construction company in the Central Florida area. We will ensure that your pavilion is built on time and on budget. We have a long history of happy clients enhancing their outdoor living spaces.
Are you ready to see your dream come to life? Contact Total Site Amenities. We're here to help!
Installation Process
Installing a custom pavilion requires careful planning and execution to ensure a successful outcome. Here are some general steps that a professional contractor may follow during the installation process:
1. Site Preparation – Before starting the installation, the contractor will prepare the site to ensure a level and stable foundation. This may involve clearing the area of debris, grading the ground, and installing footings or piers.
2. Post Installation – Once the site is prepared, the contractor will install the pavilion posts according to the design specifications. This may involve using heavy equipment such as cranes or forklifts to lift and position the posts.
3. Framing – With the posts in place, the contractor will begin framing the pavilion. This involves installing the beams, rafters, and other structural components that will support the roof.
4. Roofing – After the framing is complete, the contractor will install the roofing material. This may include shingles, metal panels, or other materials depending on the design of the pavilion.
5. Finishing Touches – Finally, the contractor will add the finishing touches to the pavilion, such as trim, paint, or stain. They may also install any additional features such as lighting, electrical outlets, or ceiling fans.
It's important to note that the installation process may vary depending on the specific design and materials used for the pavilion. A professional contractor will work closely with the client to ensure that the pavilion is installed safely and meets all local building codes and regulations.
Frequently Asked Questions
What are some popular materials used for custom pavilions?
Custom pavilions can be constructed from various materials, including wood, metal, and vinyl. Wood pavilions are a popular choice due to their natural beauty and durability. Cedar and pine are common types of wood used for pavilions. Metal pavilions are also an option but less attractive than wood pavilions. Vinyl pavilions are low-maintenance and can be designed to look like wood.
What are the benefits of adding a custom pavilion to your backyard?
Adding a custom pavilion to your backyard can provide many benefits. It can create a focal point for outdoor gatherings and provide shade from the sun. A pavilion can also protect outdoor furniture and appliances from the elements, extending their lifespan. Additionally, a pavilion can increase the value of your home and make your backyard more appealing to potential buyers.
Are there any DIY options for building a custom pavilion?
Yes, there are DIY options for building a custom pavilion. Some companies offer pavilion kits that homeowners can assemble. However, building a pavilion requires some construction knowledge and experience. It is essential to follow instructions carefully and use proper safety equipment.
How much does a custom pavilion typically cost?
The cost of a custom pavilion can vary depending on several factors, including the size, materials, and design. On average, a custom pavilion can cost anywhere from $5,000 to $20,000 or more. It is important to get a quote from a reputable builder before starting any construction.
What is the difference between a pavilion and a pergola?
While pavilions and pergolas provide shade and shelter, there are some critical differences between the two. A pavilion has a solid roof and provides complete protection from the elements. A pergola has an open roof and provides partial shade. Pergolas are often used to define outdoor spaces, while pavilions are typically used for outdoor gatherings and events.
Can a custom pavilion be used for commercial purposes?
Yes, custom pavilions can be used for commercial purposes. They are often used in parks, resorts, and other outdoor venues to provide shelter and shade for guests. Commercial pavilions are typically larger and more durable than residential pavilions. It is important to comply with local building codes and regulations when constructing a commercial pavilion.
Outdoor Pavilions
Create the perfect outdoor space for your events and gatherings with our custom pavilions.
Functional Kiosk
Stand out from the crowd with our custom kiosks that are tailored to your business needs.
Durable Shelters
Enhance your public transit stops and hubs with a functional and sturdy shelter from Total Site Amenities.
Custom Outdoor Structures for Any Occasion